Meet The 2020 Nissan GT-R
LEGENDARY isn't found in a lap time. Or a 0-100 number. Or even on a price tag. It's built on an obsession to detail. And a radical belief that a real supercar delivers performance in real-world conditions. Anywhere. Anytime. So refined, anyone can drive it. So capable, it can turn the automotive world on its ear. The 2020 Nissan GT-R.® Its history speaks of world-beating performance, but the pursuit will always be of pure EXHILARATION.
EXTERIOR DESIGN
Rather than being designed to the demands of aerodynamics, the GT-R® sculpts the air to its needs – becoming a force of nature as much as a force to be reckoned with.
PRECISION-BUILT
Vibration testing, laser measurements, and comprehensive inspections by experienced specialists are performed on every Nissan GT-R to ensure long-term functionality.
MULTI-LED HEADLIGHTS
The headlights feature four LED units to create an extremely natural light, replicating daylight, while also offering increased illumination. The super-wide-beam headlights expand the area of illumination toward the sides of the car, enhancing visibility, especially when cornering.
ICONIC TAILLIGHT
The Nissan GT-R Taillights have true iconic status. The are synonymous with Nissan GT-R, if only for the fact that people are used to seeing them as you leave them in the dust.
2020 GT-R® 50TH ANNIVERSARY EDITION
Celebrate five decades of legendary performance. The GT-R® 50th Anniversary Edition takes your drive even further. Turn heads with three available two-tone exteriors, and exclusive rear badging. Enjoy other special edition design details on the steering wheel, shift knob, meter cluster and kick plates – with the 50th Anniversary logo embroidered on the front seats. An Alcantara® headliner tops it all off, with unique stitching and matching sun visors. It's a bold look, fit for an icon.
INTERIOR DESIGN
A tradition of craftsmanship makes the GT-R® a supercar that will take your breath away – even when sitting still.
SEMI-ANILINE LEATHER INTERIOR
Available semi-aniline leather appointments on the center console, door panels, and shift lever surround you in comfort, while available semi-aniline leather and double-stitching on the seats are a tactile and visual feast.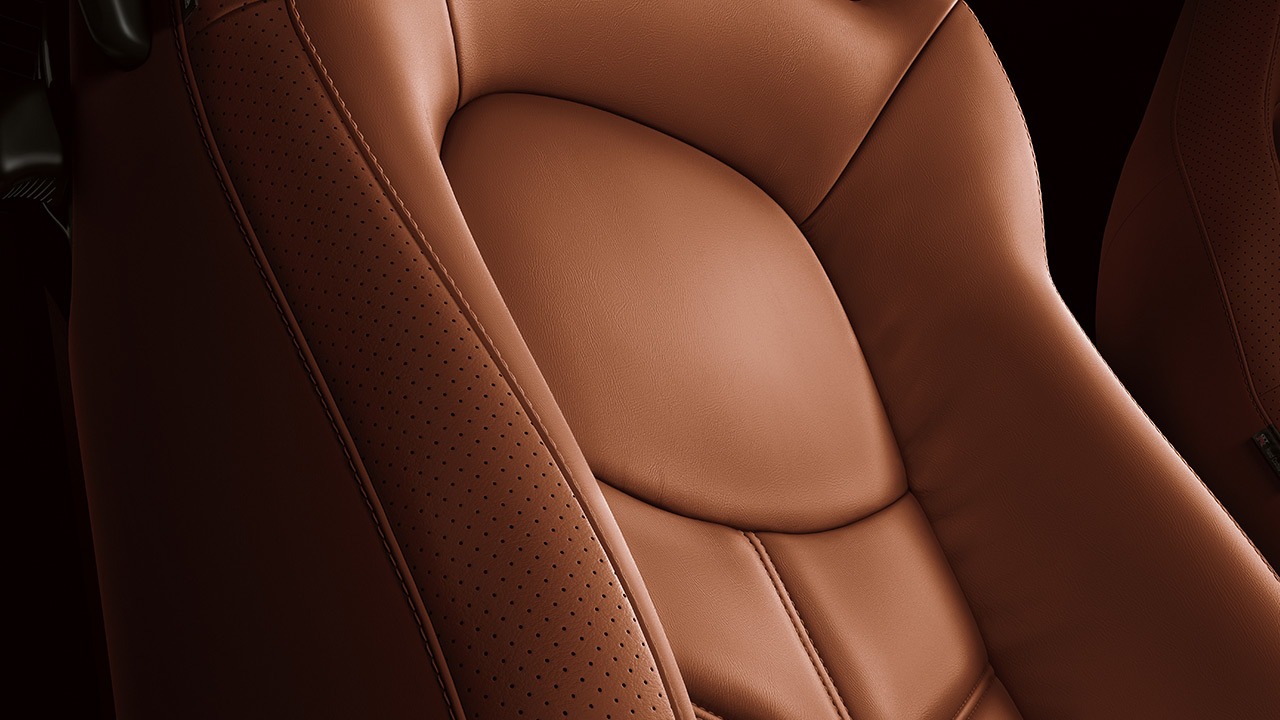 DECADES TO PERFECT THINGS YOU TOUCH FOR A SECOND
Turn an air vent that was studied, designed, and developed by a quality expert to operate flawlessly for years. Rotate a switch that's been subtly etched on the outside to enhance its feel. Or let your eyes travel across a dashboard that comes from a single Nappa leather hide, hand-selected for tone, and free of even the smallest imperfection. This is attention to detail bordering on obsession.
RECARO SEATS
Available Recaro® leather-appointed front seats are built for performance. These bolstered sport seats help keep you in place, while cutouts in the driver's seat cushion facilitate leg movement. The distinctive black leather with red accents revs up your interior.
PERFORMANCE
Carefully crafting each part, thinking of the mind, body, and spirit of the customers who will use their products – that is the spirit of the Takumi, a part Japanese tradition. And that is the human soul in the Nissan GT-R®, a supercar that could never be created in a factory that only pursues rationality.
ONE MAN, ONE ENGINE
Each Nissan GT-R engine is hand-assembled by a single technician – and proudly bears a plaque carrying their signature – in a dust- and temperature-controlled clean room much like those used for Formula One racing engines.
EXPERT DRIVER
We knew Nissan GT-R was going to redefine the breed in terms of performance, refinement, and capabilities. So we brought together the AS Class drivers – the top development drivers at Nissan – to create a vehicle that would excel at any racetrack, in any kind of weather, in the hands of any level of driver.
DEVELOPMENT
Each of the drivers is assigned to a unique aspect of
Nissan GT-R's development. There's an Autobahn expert, a "Marketability" expert who tests Nissan GT-R's real-world poise over bumps, potholes and the like, and the "Ringmeisters" who put the supercar through its paces on the unforgiving Nürburgring.
TECHNOLOGY
Featuring a multitude of technologies that are as expertly crafted as your Nissan GT-R®. Includes the available NissanConnect Services - a suite of digital alerts and remote access features designed to connect your world to your car. Working through your compatible smartphone, it can provide roadside assistance, help you locate or remotely lock your vehicle, send notifications to your compatible phone, and much more.
NISSANCONNECT℠ WITH NAVIGATION AND MOBILE APPS
NissanConnect with Navigation features an 8.0" color screen that serves up Points of Interests like restaurants, gas stations and ATMs, and guides you to your destination with voice-guided turn-by-turn directions. And thanks to Google® Search online, you can navigate any city like a local with the most up-to-date info.
MORE THAN ONE WAY TO COMMAND THE DISPLAY
In addition to its touch functionality, you can control the 8" touch-screen using the all-new Display Commander. Positioned just behind the gearshift, it lets you toggle up and down, side-to-side, rotate, scroll through and control your infotainment system, all without the need to look down or touch the display screen.
NISSAN INTELLIGENT KEY®
The Nissan Intelligent Key let you tap a button on the door handle to lock and unlock your Nissan GT-R®, while your keys stay in your pocket or purse. With the standard Push Button Ignition feature, you just get in, push the button and go.
SAFETY
The immense power and capability of the Nissan GT-R® comes with a level of safety, control, and convenience features designed to inspire confidence every moment you're behind the wheel.
REARVIEW MONITOR
With the RearView Monitor, when you back up, a camera mounted discreetly on the rear of the vehicle helps you see what's directly behind you.
FRONT AND REAR SONAR SENSORS
Parking sonar gives you an added ally in your pursuit of parking, with sensors on all four corners looking out for static objects and giving you an audible warning when you're getting close.
ZONE BODY CONSTRUCTION
Sometimes a collision is unavoidable. But with Nissan's Zone Body construction, at least it can be safer for everyone on board. This advanced body construction combines impact-absorbing structures with a high-strength cabin, which helps provide protection for you and your passengers.
SEAT BELT PRETENSIONERS
If your Nissan GT-R® senses a collision may be imminent, it can activate pretensioners to "cinch" up the seat belt to help hold you in place. If a collision does occur, seat belt force limiters can "give" a small amount to help reduce the force of impact.
SIX AIR BAGS
Nissan Advanced Air Bag System includes dual-stage supplemental front air bags with seat belt sensors and an occupant-classification sensor. The inflation rate of these dual-stage air bags adjusts depending on crash severity and seat belt usage.
VEHICLE DYNAMIC CONTROL
Advanced Vehicle Dynamic Control (VDC) system not only helps you maintain your steered path, in R-Mode, it actually sends more power to the appropriate wheels when it senses oversteer or understeer, helping you drive with superior power and control.
TRACTION CONTROL SYSTEM
All the power in the world is useless if you can't get any grip. So when TCS senses drive-wheel spin, it responds by helping reduce throttle, which helps you both regain grip and maintain control.
ANTI-LOCK BRAKING SYSTEM
In sudden-braking situations, ABS pumps the brakes quickly to help prevent wheel lockup and help you maintain control.
ELECTRONIC BRAKE FORCE DISTRIBUTION
Electronic Brake Force Distribution (EBD) monitors weight distribution and adjusts rear brake force to compensate for added weight from passengers or cargo.